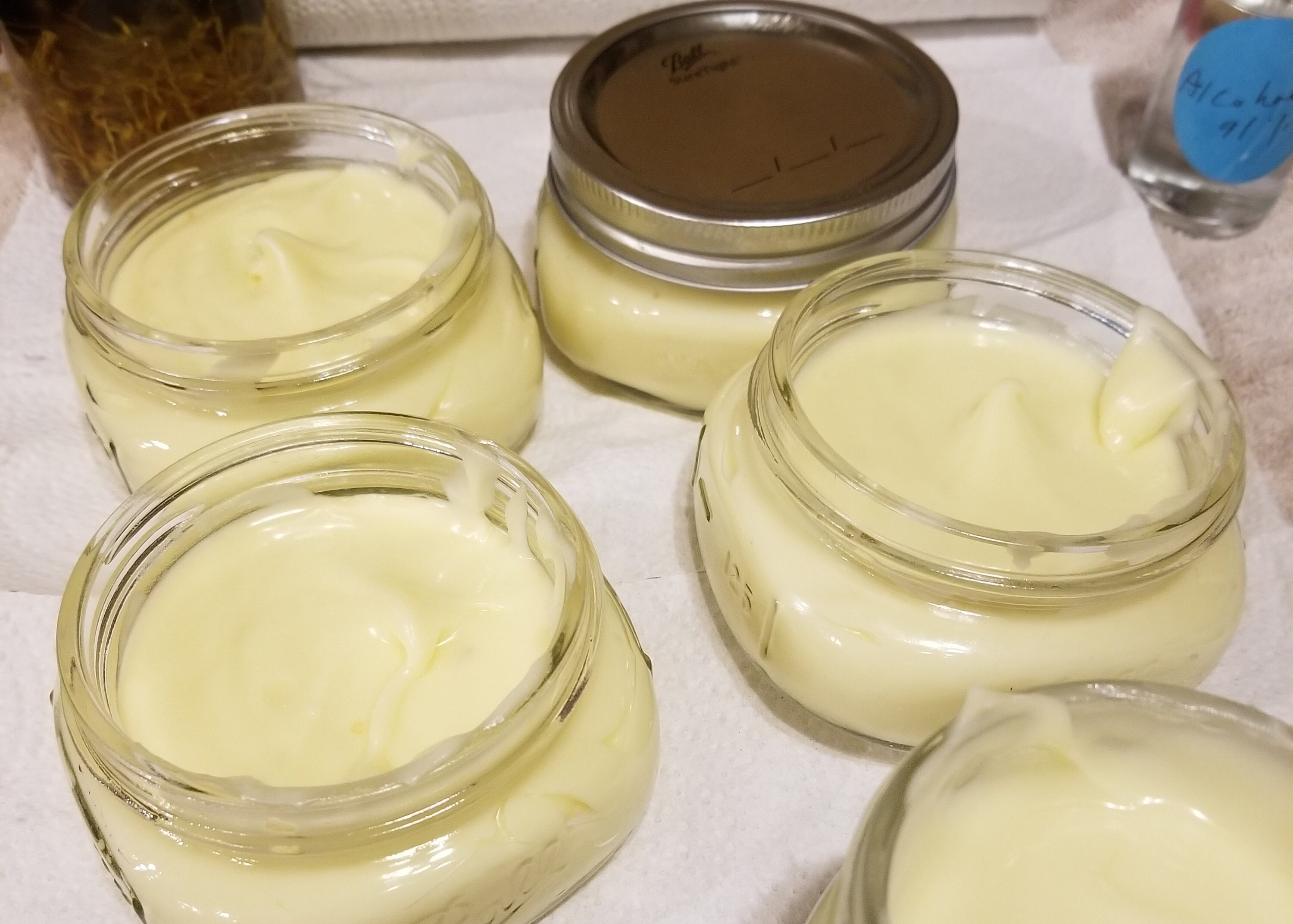 Desert lily in Gold Lotion 
Lily of the desert (Aloe Vera) and Marigold (Calendula), are only just two of the ingredients in this Jar of amazing skin bliss and here's why...it's the synergistic effects in this great combination that will help heal and soothe your skin woes away.  I know, Irritated skin is no joke. So, if you have eczema or any kind of skin irritation or/and premature aging; this lotion has amazing ingredients that may just help. Why… well, all the ingredients in this lotion are all known for their healthful plant compounds which contain antioxidant and antibacterial properties. There is research out there that can prove it. So why not just add them all to together and make an amazing lotion. So, I did, and I added more all-natural ingredients for their medicinal benefits. Here's just a little bit of information on 2 of the 9 other ingredients in this amazing jar of Desert Lily's and Gold lotion. 
Aloe Vera has been healing skin problems and used medicinally for health benefits since ancient times. Historically used by the Chinese and Egyptians for their healing effects.  Aloe was used to treat burns and wounds of their soldiers.  It doesn't stop there, amazing enough.  Aloe was recorded as healing wounds faster and had less scaring reported. And, did you know, that Cleopatra used aloe Vera in her daily skin treatments. Amazing how history plays out in to today's new-found knowledge of how helpful medicinal plant-based ingredients can help us.   In modern times we know the benefits of aloe is incredibly useful, nourishing and aiding our skin, hair and more, back to health. Aloe is an anti-inflammatory and has the benefits cooling damaged sun burned skin. It's rich in antioxidants and can help speed healing. Studies have shown that aloe speeds up skin cell reproduction.  With Aloe's antimicrobial properties it can help treat ache; and protect the skin against harmful bacteria. With vitamins C and E and beta carotenes it will also provide rich nutrients that nourish our skin and helps stave off aging. 
Calendula, one of the other ingredients added to my lotion. You honestly can't go wrong with this healing plant-based oil. Also known and used in ancient times as a wound healer.  For instance, in World War I and in the American Civil Wars, it was used as a natural healing agent. They also found that wounds healed much quicker, because it is an antiseptic and anti-inflammatory agent, it would help arrest infectious bacterial growth. Awesome! Right!  Currently, we also know that Calendula helps the skin by treating inflammatory conditions and has antimicrobial activity that will delay microorganisms which in-turn will reduce bacterial growth.  We know that calendula helps fight, skin dermatitis, varicose ulcers, burns injuries, cuts, abrasions and most skin inflammatory issues.  Yet, for us, we will mostly celebrate its ability to help with rashes and treat inflamed skin and ward off aging. Oh yes, there is so much more, but for now I just wanted to give you an understanding as to why I used this combination to help benefit our skin.  I wish you well, Handmade by JillEEs  Please Note: information on the all other ingredients in this lotion are on my previous blog post. Check out what great effects of Beeswax, Cocoa butter and Shea butter, Sweet almond oil and jojoba benefits.  Stay posted for my next blog on Frankincense, Myrrh's essential oils and their wonderful healing properties. 
Please Note: information on the all other ingredients in this lotion are on my previous blog post. Check out what great effects of Beeswax, Cocoa butter and Shea butter, Sweet almond oil and jojoba benefits.  Stay posted for my next blog on Frankincense, Myrrh's essential oils and their wonderful healing